I've had a little obsession with toile de jouy since I was a little girl. I love the way the prints and patterns tell a little story and I love the detailed pictures.
Toile de jouy prints are usually on a white or cream background and feature idealistic scenes usually of people in eighteenth century costume. The pattern is printed onto the plain background in a single colour, usually blue, black or red although other colours are used occasionally. The prints are usually found on textiles and wall coverings.
Original eighteenth century Toile
Toiles were originally produced in Ireland in the late eighteenth century before becoming popular in England and France. Toile de Jouy has become especially popular again in the last decade with many home decor retailers stocking a variety of designs.
Here are some of my favourite toile items, all at budget prices…
I am currently feeding my toile obsession with this lovely bed set from Ikea, the fabric is super soft and although the pattern isn't as detailed as some it still looks great. And the various sizes ranging from £10-£20 makes it very affordable too. Available here
This pretty wallpaper from B&Q is a bargain at only £19.98 per roll available here
I love this toile cushion from the National Trust shop, at only £12.00 it would look great with white bedsheets or on a simple cream sofa. Available here
If you don't want to go all out with the toile look, this pretty tea cup and saucer set from Marks and Spencer is perfect. It comes in a beautiful gift box so would also make a lovely present (hint hint) £12.00 here
Of course there is a massive selection of toile de jouy fabrics available to buy in most good fabric shops, so why not make your own toile home accessories.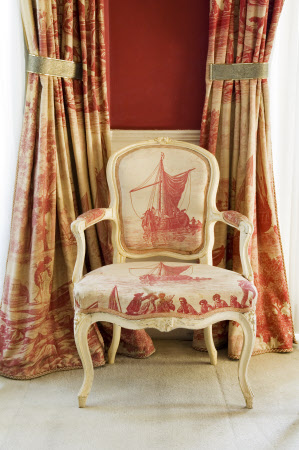 A Louis XV chair upholstered in toile de Jouy in the Octagon Room at National Trust property Plas Newydd, on the Isle of Anglesey, Wales
If you happen to find yourself in France you could visit the Museum of Toile de Jouy (French Website)